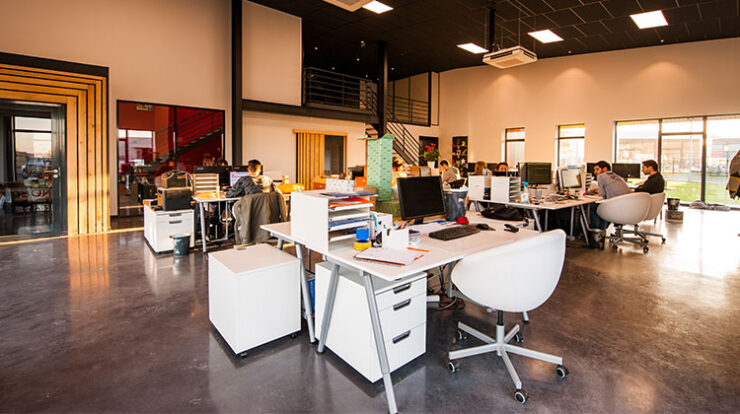 Moving paperless can help you reduce your company's environmental footprint, improve your organization, and increase transparency in your business's day-to-day operations. Not to mention the extra storage space that will be available after getting rid of your file cabinets. Tools like electronic invoicing and document management software are available to help you create a paperless office. Cloud storage is also becoming more affordable.
It's never been more important to become paperless. This is how you can create a paperless office.
Benefits of a paperless office
Even though it might take some time to transition to a paperless office, the benefits can be worth it. There are many benefits to going paperless, including but not limited to:
Lower prices. It is expensive to maintain a printer, including ink, toner, and paper. Converting to a paperless office, or at least a nearly paperless office and you can save money by having one central all-in-one printer. Cloud storage solutions such as Evernote are very affordable and make it easy for employees to access any document they need, from anywhere, at any time.
Secure access. A paperless office allows employees to access company documents from any location. Anyone with the right credentials can sign in to electronic document management platforms from anywhere. Strong usernames and passwords can make electronic document management platforms more secure than traditional file cabinets, protecting your most important documents.
Increased office space. File cabinets and printers occupy valuable office space. These common office clutters can be eliminated by going paperless, which frees up valuable space for other things.
Workflow automation. No more digging through files to find the right document with Electronic document management you and your colleagues can quickly sort through files with just a few clicks, so you can easily find what you are looking for.
Paperless statements. A Paperless office means less incoming mail. Instead of having to organize and sort stacks upon stacks of invoices, your team can instead download paperless statements from the internet and save them in the right digital folder. Going paperless reduces postage costs if your business sends invoices to customers or clients.
Decrease your environmental impact. Every business produces carbon emissions in some way. However, going paperless can help your company reduce its environmental impact.
Also read: 15 Best Cool and Amazing Office Gadgets and Accessories
How to create a paperless office
Do the benefits of a paperless office sound appealing? All you need to do is get a paperless office for your business with the right tools and some training.
These are some easy steps to create a paperless office.
Provide tools and training for staff.
Do not assume that people will find (and then implement) ways to reduce their paper consumption. They require clear instructions that they understand. To ensure a paperless office, create written guidelines and procedures that they can follow.
It's easier to work with paperless.
Paperless processes must be simple and provide tangible benefits such as time savings, reduced effort, and environmental protection. Cloud storage will make it easier to file and retrieve sensitive and scanned documents, as well as the ability to share them without having to copy or scan them.
Move/remove printers and copiers.
Printers that are accessible by your team will still be used. You can reduce their usage by removing them from your desktops and replacing them with central network printers that are confined to designated areas in the office.
Enable logging and password access to print securely when necessary. This allows managers to monitor usage and correct abuses. It is possible to set up policies that limit the purchase of ink or toner for approved devices. This can also reduce the use of printers left on employees' desks
Devise a new paperless filing system.
Investing in modern document management software can replace filing cabinets. Evernote, for instance, digitizes tasks and notes and stores them digitally without scanning them.
There are many good document management software options. Prices start at $15 per user per month.
These are just a few of the finest examples. You can get a free trial of some applications to help you choose the best package for your company.
Switch from file cabinets to digital storage.
You will need to upgrade your networked disk storage, backup systems, automated online backup, cloud computing, and automatic online backup as part of the switch. Because it is accessible even in times of disaster, your digital filing system is more secure than paper. Additionally, scanned documents that you have uploaded to your paperless system are not accessible without a password.
Also read: Top 10 Backup Software for 2022
Enable digital scanners.
Modern shared copiers have a document scanner, which can scan paper documents and store them in many cloud computing and digital storage systems. Your copier vendor can help you make your copier and document scanner part of your paperless office. Ask your vendor or copier service about setting up a digital scanner to connect with an online faxing service.
Integrate with your business operations.
Your employees should be able to file original documents in the software that they used to create company documents. For both saving and retrieving files, connect your Microsoft Office account or any other software to the document management software. You can automate the workflow of your company, store paperless documents, and use digital signatures from one platform.
Replace fax machines.
Online fax services can be used to eliminate the print-then-fax process. These solutions can be attached directly to your office's software, allowing direct inbound or outbound faxing via users' computers. This will ease the transition to paperless statements as well as digital signature tools.
These fax services all offer similar features and prices, starting at 5 cents per webpage after a monthly standard allowance.
Additional ways to reduce your paper usage
These additional methods will help you establish a paperless office if you are convinced that going paperless is the right decision for you.
Use word processing, slideshow programs, and spreadsheet tools.
Forget about accounting books and handwritten documents. These tools can be used to create and store digital documents quickly and easily.
Use cloud storage corresponding with your email accounts.
Most likely, the same platform that manages company emails also offers cloud storage options. You and your colleagues can safely, securely, and easily access all digital documents from anywhere by ensuring they are uploaded to these cloud storage tools.
Switch to tablets and laptops.
Going paperless can be more difficult if your company uses primarily desktop computers. Desktop computers are not allowed to be brought into company meetings by employees. This means that they will need to print the documents they need. Your employees can use tablets and laptops to connect to projectors so that everyone can see the screen.
Set goals and timelines for incremental change.
Set a time frame for your office's transition from paperless to paperless. Also, set a date to convert to your target reduction of paper usage. Your company won't eliminate all paper from its office. Therefore, set a goal to reduce paper and printing by some percentage. A 50% reduction in paper usage is a good start, while a goal of 80% is realistic. You can check your progress and adjust as necessary.