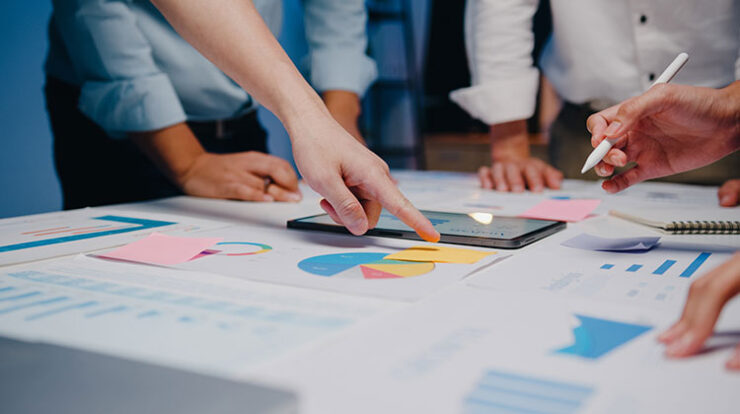 This increase in dispersed teams means that there is a greater demand for powerful, collaborative project planning software in order to align members and streamline daily operations and achieve key goals.
Project planning software is essential for anyone who works from home or from the office. Project management software is designed to simplify your project planning process. It includes features that allow you to manage tasks, teams, communication, productivity, and other aspects from any location.
We don't need project management software. The question is which project management software do you choose? We've scoured the marketplace for the best tools and have chosen the best.
You will find everything you need about the best project management software, including key features, and pricing plans.
Top 10 Project Planning Software Tools
1. ClickUp
ClickUp is a productivity platform that allows teams to work together in one place. ClickUp's intuitive interface makes it easy for everyone to connect, no matter what their daily tasks are or how complex they may be. No matter if your team works in real-time or asynchronously, ClickUp will provide the context and tools you need to keep projects moving.
ClickUp integration with your favorite software and apps will increase productivity. ClickUp can also be integrated with over 1,000 other tools, including Slack and Hubspot, Zapier. Chrome, Microsoft Teams, Microsoft Teams, and many more.
ClickUp Features
Users roles and permissions make it easier to work with both internal and external partners
You can convert shareable screen recordings into a task.
Automators that simplify your workflow
In the ClickUp template Center, you will find project templates for every use case.
ClickUp pricing
Free Forever
Unlimited: $5 per month per user
Business: $12 per month per user
Also read: What is Project Procurement Management – A Quick Guide
2. Hive
Hive is project management software that focused on team collaboration. This can be seen in the variety of communication options. Hive Chat, Hive Mail and comments are all available to project teams. You can also share inboxes with multiple people.
Hive allows you to choose from a variety of ways to keep your team focused. This includes messages, priority card levels to alert them to urgent tasks and tags in the comments.
Hive features
Flexible views
Instant messaging functionality
Executive summary templates
Portfolio management
Time tracking
Hive pricing
Solo: Free
Teams: $12/month per user
3. Monday.com
Monday.com is a popular project management tool that helps project managers manage complex and basic projects and is one of the most used. It allows users to collaborate, create workflows, track progress, and analyze information.
Monday is designed to promote transparency and collaboration. It offers features that will allow you to manage all your tasks. You can manage multiple projects and view data in teams using highly visual dashboards.
Monday Features
Resources management
Collaboration with third parties
Reporting dashboards
Many custom integrations
Monday pricing
Free plan
Basic plan: $8/month per user
Standard plan: $10/month per user
4. nTask
Another popular, free project management tool for freelancers and teams in different industries. nTask is a simple user interface that integrates powerful and sophisticated features to help you manage your projects at all stages.
nTask offers many features to help you monitor multiple projects simultaneously. With its transparent, easy-to-use collaboration channel, it allows you to create the foundation for a project management system that is efficient.
nTask features
Multiple workspaces
Visual project management for track projects
Ability to convert comments into tasks or add comments
Gantt charts are used to track project progress
nTask pricing
Free plan
Premium: $3/month per user
Business: $8/month per user
5. TeamGantt
TeamGantt project management and project planning software help project managers, teams, or organizations visualize their project plans online in an easy-to-use Gantt chart.
It allows teams to set milestones and manage projects, establish dependencies, and get real-time updates. It also provides functionality to share project plans with clients, vendors, or other stakeholders–keeping everyone informed and aligned on project goals.
TeamGantt features
Accessible availability tab for Resource Management
Portfolio views and reports
Actual timeline versus the timeline planned
TeamGantt pricing
Limited Free plan
Lite: $19/month
Pro: $49/month
6. MeisterTask
MeisterTask is a project management software designed to allow teams of any size and from all industries to collaborate on project planning, tasks, and deadlines. It is an Agile project planning tool and offers task boards for task planning and tracking.
MeisterTask features
Each board has an activity stream for team collaboration
Dashboards for projects that can be customized with real-time updates
Comment tags help keep everyone informed
User friendly
MeisterTask pricing
Free plan
Pro Plan: $4.19/month per user
Business Plan: $10.39/month per user
7. ProofHub
ProofHub is a project management software that allows teams to manage time-bound projects. It's a flexible platform that project managers can use to customize reports, workflows, and dashboards as well as request forms.
ProofHub's visual interface allows you to quickly decide priorities by moving between powerful Kanban boards and table views. You can also drag-and-drop Gantt charts for a more intuitive way of staying on top.
ProofHub features
Teamwork is key to success
Allocation of resources
Calendars are essential for proper scheduling
Interactive Gantt charts
Customizable dashboard
ProofHub pricing
Essential: $45/month
Ultimate Control: $89/month
Also read: Top 10 Project Management Software for Mac
8. Teamwork
Teamwork ranks among the top project management software because of its core modules, which focus on task management, and especially project planning. This software is a winner thanks to its Gantt charts and milestones feature. It also has a desktop timer for time tracking and a clean interface.
Features of teamwork
Task boards for intuitive task-seeking
Integration via email
Templates and themes for color projects
Invoicing and budget management
Teamwork pricing
Free Forever
Deliver: $9.99/user per month
Grow: $17.99/user per month
9. Toggl
Toggl is a project management tool that helps project managers to keep track of their project tasks and prioritize their work. It has powerful features for project, task, and time management that simplify collaboration and project tracking.
Toggl features
Simple drag-and-drop interface for unlimited project plan timelines
Unscheduled tasks can be saved by creating a backlog
Color-coded milestones
Visually-oriented
Toggl pricing
Free plan
Team plan: $9/user per month
Premium plan: $18/user per month
10. Trello
Trello is another simple, but powerful project management tool. This application is known for its famous cards. It functions as a supercharged version of sticky notes. This tool is great for managing projects, tasks, and features that are associated with them using Trello boards.
The Trello boards contain all information needed by project managers to organize all activities team members must complete.
Trello features
Drag-and-drop simplicity
Simple task management solution
For additional functionality, power-ups can be used
Deadline reminders
Email notifications
Trello pricing
Free plan
Standard: $5/user per month
Premium: $10/user per month
Conclusion
Although it sounds easy to find the best project planning software for your team, there are many options and a variety of functionality available. Before you make your purchase, however, be aware of all the possibilities.
These 10 options will help you get your search started to find the right software that can increase productivity and collaboration, regardless of size, industry, or budget.